Today is a very important day my friends, for I am taking part in the 'Blog the Change for Animals' in which pet bloggers from all around the world come together to support people who are helping animals in need. Today, I want to share with you a cause that is very near and dear to my heart.
No Tail Left Behind is a campaign that I started in April to educate people about the difficulties and suffering that dogs endure from tail docking. I am in a unique position, for I am a dog with a docked tail who has suffered since puppyhood from stabbing tail pain and stinging nerve pain at my docked tail tip. You see, my tail was taken from me, just like it is for thousands of puppies each year, when I was just a few days old. The 'reason' for amputating part of my spine with no anesthesia or proper surgery, is because breeders of certain dog state it is the 'breed standard' to dock certain dogs tails. Not many people realize that tail docking involves the severing of tendons, spinal vertebrae, muscles and nerves. Some dogs do fine later in life with a docked tail. I did not.
There are many symptoms and behaviours that a dog can exhibit when they are having docked tail pain. Here are just a few signs that a puppy or adult dog is having pain, irritation or difficulties with a docked tail:
1. Biting, licking, 'chasing' or whining at the tail or back end.
2. Hiding under a bed, or in a crate. Isolation from the family or laying alone in a back room.
3. Difficulty potty training, either on paper or outside. Often difficulty having a normal BM, including running away from a BM as it is occurring.
4. Unexplained potty accidents, even if they are potty trained.
5. Redness, inflammation or scaling at the tail nub tip. I am 4.5 years old and mine still gets red and inflamed at times.
6. The dog acting like they are in trouble or are being punished, including crying out, yelping, or even nipping at someone who tries to pick up the dog, or touch the back end near the tail.
7. Getting excited over a loved one coming home or a fun play time, and then suddenly yelping and 'going after their tail. Whenever I get excited to see Mommy my tail gives me a fit. I can't even show how happy I am to see her without my tail stinging and hurting me. Excitement runs through the nerves in my tail nub as I wag with joy.
Things you can do to help ease the stress from the stabbing and stinging nerve pain of a docked tail include:
1. Setting up a 'safe place' where the dog can go to such as a crate, or a bed that is just theirs. Make sure you can easily access them if needed. I used to go under the bed, now I have a little crate I can run to if need be and Mommy can come comfort me.
2. Putting a sweater on the dog (amazingly this distracts me from biting at my tail).
3. Help your dog snuggle into a comfy bed and gently wrap them in a blanket if possible. Sit and comfort them.
4. Talk to your vet about your concerns. I am on Neurontin for the nerve pain and I just started taking a natural supplement called 'Composure' that has Colostrum, the natural occurring hormone that puppies get from their mother when nursing. Mommy saw a marked difference in me on the very first day.
5. Corrective surgery is an option, and one that my family is now going to do for me. We've tried every other avenue and now we must take this final step to make my quality of life better.
Make sure your vet takes you seriously, and if you feel your concerns are not being addressed...go talk to another vet. Docked tail issues are real and valid, and you owe it to your dog to do all you can to help them.
This is a video that my Mommy took of me and it shows some of what I go through. She was actually going to video tape us practicing my tricks, but my tail had other plans. It started hurting me with that awful nerve pain and I could not concentrate and acted like I was in trouble.
I know that tail docking is a touchy subject, but so is my tail pain. There are those who swear that one of the main reasons for docking is so that dogs won't 'hurt their tail', or 'get it caught in a fence and rip it off'. However, think about this for a moment...would a human remove a finger or an arm, because they 'might get it caught in a buzz saw' or 'might do severe damage to their finger while chopping vegetables'? See, that sounds crazy, doesn't it. Well, to me and my family, and to the multitudes of dogs with docked tails that hurt their entire lives, removing our tails sounds just as crazy. Why remove a body part because you 'might' get an awful injury? If injury was truly a valid reason, then why don't they remove the tails of military working dogs, or police dogs, or search and rescue and service dogs. We must help educate about cosmetic tail docking. Please help me spread the word about the dangers and difficulties that dogs go through.
Let's help future puppies in the U.S. keep their tails. I, Pixel Blue Eyes, am in it to end it. I believe that every dog deserves a tail. Please join me in my campaign. Visit my No Tail Left Behind page on Facebook, which has tons of helpful information, photos, encouragement, and stories from other dogs with docked tail issues like me.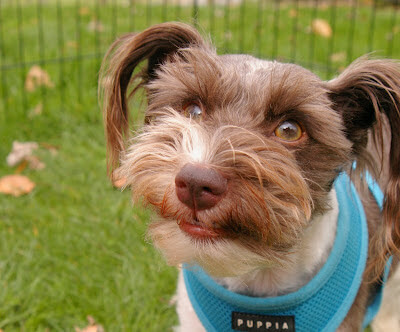 Help me Be the Change for dogs in the U.S. by helping me be the voice of dogs with docked tails. Our first goal is to educate, our second is to help end tail docking in the U.S. So many other countries have already banned tail docking and ear cropping, including Australia, the U.K. Brazil, Belgium and Italy, just to name a few. Tails are beautiful. Tails are one of our most expressive ways of communicating. We are planning on taking this campaign to Congress, so prepare to join us in contacting your local legislators. Please LIKE my Facebook page, where you can read my entire story and get much more information on tail docking. Also, please leave a comment of support below. Thank you for letting me share my story and my hope to help educate and stop tail docking. Remember, Be the Change for Animals. Together, we all can make a difference.
Please visit some of these other blogs listed below who are Blogging the Change for Animals too.