My dear friends, as the holiday season approaches, with Thanksgiving just around the corner, I can't help but think of all the things I'm truly thankful for. I have the most wonderful Mommy & family who loves me beyond measure; I have two extra special fur sisters whom I adore; I have a good vet who helps keep me as healthy as possible; I have lots of wonderful friends whom I love sharing with; I get to eat really good food everyday; I get to blog about my adventures and joys with people from all over the world; I have the best collection of toys a girl could ask for; and I get to be spoiled with special treats everyday. Oh, I could go on and one, but that gives you an idea of why I am so thankful.
The treats that I have fallen in love with are my Hill's Ideal Balance Oven Baked Naturals. Oh my goodness, they are so yummy-licious! I remember the first time those treats were delivered to my house, back when I first started blogging for Hill's. I could smell the yummy goodness even before they came out of the box!
Mommy always wants to give me healthy dog treats, so she read the ingredients thoroughly and liked what she read. We could see what the treats looked like right through the front window of their very appealing packaging. Mommy likes that you can literally see the little chunks of fruit like cranberry and blueberry pieces in each treat. I like that they taste so good. Hill's Ideal Balance treats are all natural, and there's no soy, wheat or corn in them. And U.S. chicken is the number one ingredient!
As you all know, I love doing my tricks with Mommy. We've trained for years mastering each one. Although I certainly can do them without treats now, Mommy always likes to give me little treats as a reward. She appreciates the fact that the Ideal Balance treats are easy to break up into smaller pieces, so I get several little treats that actually is only one treat. It makes me feel extra special getting so many little ones!
Sometimes I get so overly excited to do my tricks that I almost shout for joy as I do them! Here I am doing a combo of my "Paw" trick (where I give Mommy my right paw) and my "Smile/Sneer" trick (where I give Mommy my best toothy grin). Of course, I get a little treat after doing several tricks in a row...and what better treat is there than a healthy dog treat that is grain free and made right here in the U.S.A.?
Would you like to see
a video of me doing five of my tricks
? I do love sharing my abilities with you, and it might just bring a smile to your face and laughter in your heart. Oh, and I guarantee that you will LOVE my "
Pixel the Nascar Dog
" trick video!
All of this talk of giving great tasting treats is making me hungry for some, how about you? Would you like to try Hill's Ideal Balance treats for your dog or cat? If so, then I want you to enter my "Pixel's Joy of Giving" Ideal Balance Treat Giveaway, sponsored by Hill's Pet Food!! 20 lucky winners will each receive 3 bags of either Hill's Ideal Balance dog treats or cat treats. It's very easy to enter, just follow the instructions below.
Here's what you need to do to be eligible for the giveaway. You only have to do ONE of these, but if you want to do more than one, your name goes in for each one you do. You just MUST let me know so I can verify:
1. Follow my blog here by signing up with the "Join This Site" button to the right of this post (you might have to scroll to get to it), then leave a comment here on the blog post letting me know what you're thankful for, why you want to try the treats and whether you want it for cats or dogs.
2. Follow me on
Facebook
by "LIKING" my page, then leave a comment on my Facebook timeline letting me know what you're thankful for, why you want to try the treats and whether you want it for cats or dogs.
3.Follow me on
Twitter
, then send me a tweet letting me know what you're thankful for, why you want to try the treats and whether you want it for cats or dogs.
4. Share this blog post via Facebook or Twitter and make sure to tag me so I know you did it.
5. If you get one of your friends to follow me in one of these steps above, tell them to LET ME KNOW and I will enter YOU in the drawing again.
Here is a list of the yummy varieties of dog and cat treats that Hill's offers:
1.
Hill's® Ideal Balance™ Crunchy Naturals with Real Tuna cat treats
2.
Hill's® Ideal Balance™ Oven-Baked Naturals with Chicken & Apples dog treats
3.
Hill's® Ideal Balance™ Oven-Baked Naturals with Turkey & Cranberries dog treats
4.
Hill's® Ideal Balance™ Soft-Baked Naturals with Beef & Sweet Potatoes dog treats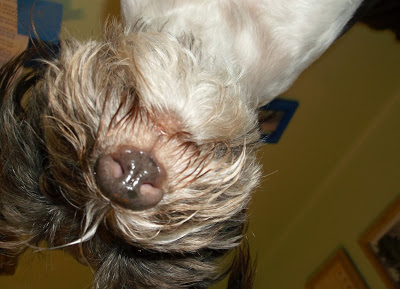 Now don't wait to enter friends, you haven't a moment to lose! This giveaway is open to U.S. residents only and you must enter by November 30, 2013. I will announce the winners the first week of December. If you have won the previous Hill's Ideal Balance Gift Basket Giveaway, you cannot enter this one as we want as many different people to have a chance to win as we can.
I think it is always best to give than to receive, so I can't wait to give 20 lucky winners a goody bag of treats. I hope each and every one of you has a wonderful Thanksgiving and Hanukkah holiday next week! Remember to try to always be thankful each day and to look for the joy in the little things in life. It makes life so much more enjoyable!
Author has been compensated for completion of this article.
Hill's Pet Nutrition, Inc. is not responsible for the content of this article
.