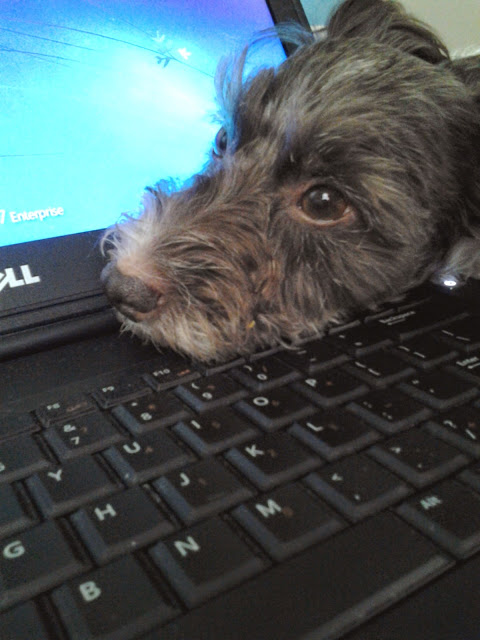 I've been suffering from a bit of writer's block as of late, so today's #WordlessWednesday seemed like the perfect time to "fess up" to the fact and perhaps break the trend.
They say that a writer should write everyday, or at least least make an attempt to write. I come from a family of brilliant writers, so I listen to their sage advice as well. My Grampy says that a writer needs to "show up" in front of that laptop or keyboard each day because inspiration can come at any moment. I say why sit in front of the computer when I can lay my entire face and head on the laptop?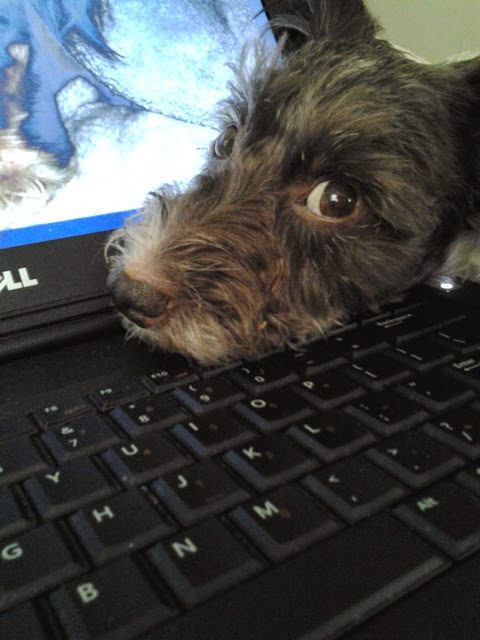 I'll let you know when inspiration arrives.
*********************************************************
A special message from Pixel and her Mommy Jenny:
The pet blogging world and veterinarian world lost a dear person yesterday when
Dr. Lorie Huston, DVM
passed away suddenly from a severe illness that caught everyone who knew her off guard. We are all in shock. We got to meet her at the BlogPaws 2013 Conference. She was so kind and a pleasure to talk to as she shared her expertise and love of animals. The BlogPaws team is helping to find homes for her 6 cats.
Please hold your loved ones tight, tell them you love them every single day and if you are ill, let someone know so that if anything ever happens to you, they can help. Wishing all my pet blogging and pet loving friends lots of love, hugs and happiness!