Choco is so pretty & has a warm smile. (Photo from her Instagram account)
My friend Choco, a beautiful chocolate lab girl, and her Mommy make pretty collar bows for dogs and cats. Choco is called the "world's friendliest dog" and with good reason. She is SO sweet and friendly. We became fast friends, especially since we both love our Mommies, we love smiling and we love pretty girl stuff. One day clear out of the blue (but during an especially tough tail nub pain time) Choco asked if I liked pink. Well of course I said yes! She asked if she could send me something. Next thing I know, a special delivery from Canada came in the mail. I was SO excited!
Inside the wrapped gift was a lovely collar bow with pink sequin and silky ribbon for me to wear.
As you can see, Mommy took some photos with her good camera and some with her phone camera. Here's a special collage Mommy made from all the photos she took with her cell phone.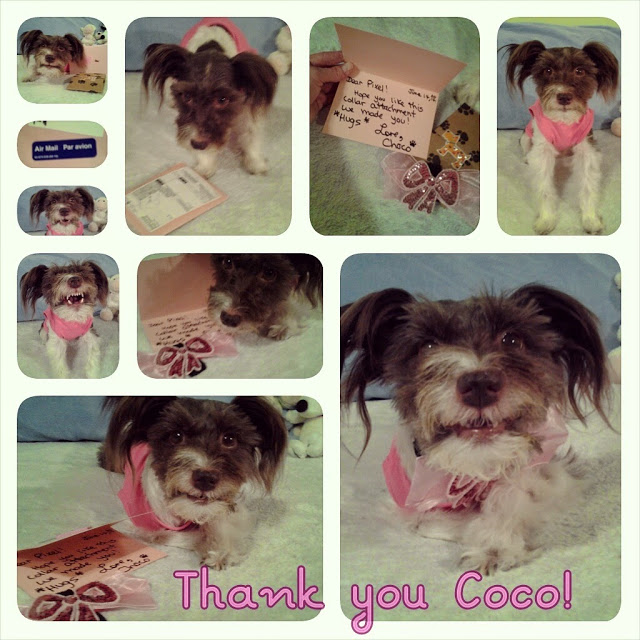 Now, I can't wait to return the favor. Why don't I start with getting sweet Choco more friends. Just visit her
Twitter
and
Instagram
pages to become a friend, and make sure to tell her I sent you.
Have you ever gotten a little surprise that made you smile? Have you ever given a little surprise or done something special for another? Leave a comment below and tell me all about it.
Did you know that I'm on
Twitter
and Instagram too? Come by and say hi friends!