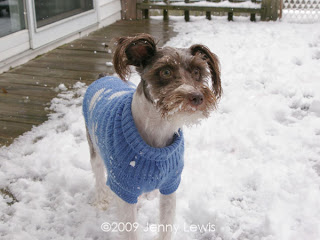 I absolutely love snow!! It just snowed here in the mountains for a second time in December, and I had so much fun!! We usually just go out to play in it on our back porch, because it is safer since we live on such a steep mountain side. But snow is snow, no matter where you go! (Oh, my, did I just rhyme?)
I even let Mommy put a sweater on me, as long as she doesn't expect any tricks to be done, and as long as it is ONLY for being in the snow. My video for 'Trouble with Sweaters' is no laughing matter!!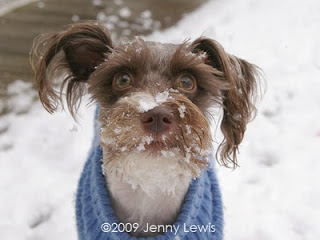 The snow is so pretty to look at as it is falling. My Mommy and I love to watch the snow fall together. She says that snowflakes are amazingly detailed works of art, like little pieces of lace sent from heaven. And I must say, the snow tastes really good, too! Mommy says not to eat the yellow snow though...I wonder why?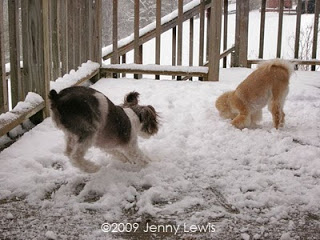 Sometimes my cousin and uncles go out to run around with me in the snow. We just jump and run back and forth and bark a thousand times...I think everyone should do that when it snows! The pretty pomeranian is my cousin Peanut...she loves to eat the snow too! And she barks loudest of all of us. We have so much fun together! Notice that I got out of wearing a sweater in this photo.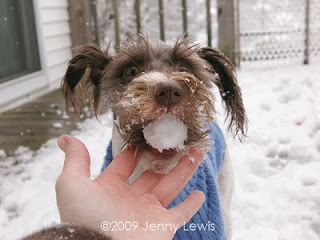 Mommy threw a few snowballs at me and I finally caught one and tried to eat it...haha, she can't throw that one at me anymore. She tried to get it back, but I was too ninja fast - I showed her! Now, if I only knew how to make one and throw it at Mommy...