As a professional pet blogger, I've made lots of fellow pet blogging friends over the years. Believe it or not there are many other animals like me sharing their stories, lives, and adventures online, including dogs, cats, ferrets, turtles and horses. Who knew that us animals had so much to say? In celebration of the many pet blogs and their humans out there, and to challenge those behind the camera to come out and be recognized, several fellow bloggers have created a "Meet the Blogger" blog hop, to meet the humans behind the pet blogs. As with most writers, there is at least one person in their life who is a fantastic support. It makes all the difference in the world!
I'd like to introduce you to my Mommy (her name is Jenny) and share a little bit about her. First of all, we need to be clear that Mommy is 100% supportive of my blog and social media activities. My focus has always been to be absolutely kid friendly and full of fun, adventure, good information and sound advice. I must start by sharing that I adopted Mommy and saved her from heartache back in 2008. Of course she rescued me too. It was truly love at first sight! I had waited for her my whole life the day she walked in. I stared right into her eyes and deep into her soul. She knew in an instant that she was mine. She told me later she tried to give other pups a chance, but I was THE ONE. I knew that the whole time!
Mommy and I originally started this blog back when I was 9 months old. She says that I brought her so much joy that she couldn't very well keep that all to herself, so with my blessing she started my blog. Oh how I chuckle at some of my first blog posts! But I've grown a lot since then and Mommy has helped me along the way. At first we only posted occasionally, sometimes only every few months. But it has really grown a great deal in the last couple of years and we wish we could do it full time!
Our blog hop hosts have a list of questions for me to ask Mommy Jenny. She agreed to do this interview with me since so many other blogger Mommies are doing it. I hope you enjoy learning a little about the Mommy heart behind the Pixel Blue Eyes blog!
Pixel: What is one of your favorite non-animal related book?
Mommy: Are you kidding me? I have to find one that doesn't have an animal in it? How fair is that? LOL! Okay, I will share one that doesn't have an animal in it as long as I can share one that does as well.
Pixel: Okay Mommy, I will humor you and let you share both kinds of books.
Mommy
: I'd have to say that one of my favorite books NOT animal related is the
Mary Stewart Arthurian/Merlin novels
, written back in the early '70's, right around the time I was born. The first one is "The Crystal Cave" and I've read it a few times. I loved the series because she has the most realistic view of Merlin as a real person instead of some freaky evil sorcerer.
Mary Stewart
does a beautiful job of intertwining history and fantasy, and her attention to detail in her descriptions make me feel like I am right there.
Mommy
: Now, my favorite books WITH animals in it (you said I could include this Pixel) is the Chronicles of Mister Marmee series by
H.L. Stephens
. The first book is called "
The Case of Jack the Nipper: A Chronicle of Mister Marmee
" and the second one, which just came out, is "
The Case of the Wayward Fae: A Chronicle of Mister Marmee
". They are AMAZING adventures with Mister Marmee, who is a marmalade colored gentleman cat who lives in Victorian London and helps solve crime with the greatest detective ever, Sir Happy Heart. The two of them consult with Scotland Yard. The characters are so 3 dimensional, I feel like they are beloved old friends to me. You should know this Pixel, We've read these books together!
Pixel: Okay, Mommy. Next question is: What is your favorite non-animal related movie?
Mommy: Pixel, you're killing me! Okay, give me a minute to think... It is hard to pin down just one, because I love a variety of movies, so I will say the X-Men series and the movie "I-Robot" come to mind as ones I can watch more than once. One of my super favorites is "Avatar" but that has animals in it! To keep it well rounded though, I must include a comedy in here, so let's go with a silly favorite: Galaxy Quest!

Pixel: Who is your favorite actor?
Mommy: Well, I don't always know people's names, and most often I love actors that are excellent character actors. I might have seen them in a dozen things, but can never remember their name! Whomever was in the movies I mentioned, I like them!
Pixel: What is your favorite holiday?
Mommy: I love ALL the holidays, Pixel. But I really love Thanksgiving and Christmas because they are truly a time of celebrating togetherness with the family and eating amazing food. You know how much you love oven roasted chicken and sweet potatoes.
Pixel: I know what you mean Mommy! I love getting to sit at the table with you and share a good meal. But we do that all the time, as well as on holidays.
Pixel: Since we're talking food, what's your favorite meal?
Mommy: Any meal I can share with you Pixel!
Pixel: Awe Mommy, that is the sweetest thing ever! But you're not getting out of this question.
Mommy: Okay, okay. One of my favorite meals is oven roasted turkey, homemade gluten free corn bread sausage stuffing, mashed sweet potatoes, gravy, and a wonderful dessert of either a huge piece of your Auntie's gluten free pumpkin pie or her amazingly decadent chocolate cake. I can't get enough!
Pixel: What do you like to do in your free time?
Jenny: That should be a given. Spend time with my little Pixel of course! I love being with you, whether we are playing, snuggling, writing or practicing your tricks. And I love having the two of us go out and run errands together, with you tucked securely in your harness carrier. I've come to accept the fact that you do go crazy barking in every single parking lot we have ever entered. But you are my guard dog as well as my child, aren't you. Of course, I also love spending time with our family. We are blessed to get to see each other every day. We have such fun together don't we?
Pixel: We sure do!
Pixel: What do you wish you were more skilled at?
Mommy: Sewing, playing the violin, juggling, and speaking sign language and Spanish...preferably all at the same time, LOL! Seriously, I can hand sew but need to take the time to learn sewing with a machine, I have a perfectly good violin but need lessons, I used to juggle but it's been years, and I know just enough sign language or Spanish to be an official interpreter (JUST KIDDING!). I would really like to get better at both languages, just because I like them.
Pixel: What is one thing that you've done that you are most proud of?
Mommy: Truly Pixel, I'd have to say that I am incredibly proud of your blog and the online presence we've built surrounding your sweet, adorable, funny, smiling self. I never could have imagined 6 years ago that we would have the kinds of friends and followers we have that love sharing your adventures and joys in life! It's been a great blessing and it has shown me that I am a writer. I never knew that about myself.
I also have to say that I am very proud to have gone back to school in my 30's and earned 2 degrees, both of them involving computers and digital media. Before I went back to school I'd never thought of myself as very "academic" or interested in computers, but my wonderful family was very encouraging and supportive. They helped me see I could do anything I set my mind and heart to do. Now, I work AND play on computers all day.
Pixel: Other than blogging, what are 4 things that you do that bring you joy?
Mommy
: Photography, being in the outdoors (even just standing in the yard is good for me), quilting by hand (though I haven't done it in a while) and volunteering my time and photography skills to our local shelter. I've been a photographer for almost 20 years now and I adore it! I started doing it well before the digital age, back when film was king. But I have moved completely over to digital and am amazed at how technology has advanced the photographic possibilities. I love nature and the beauty it holds. It just feels good to be out in it, whether it is sunny and 70F degrees or snowing and 20F. As for quilting, I have a lot of fabric I've collected over the years and several 'started quilt tops'. Unfortunately, I have yet to complete a full quilt project. Still, I enjoy the process of planning a quilt and choosing the design and material.
Pixel
: I can attest to the fact that Mommy has a lot of photos of the great outdoors, and lots of 'started' quilt tops. I am hoping to see one completed before I am a senior dog! BOL!
Mommy
: I will see what I can do to make that hope and dream a reality my silly little flower girl.
Mommy
: Regarding my photography and volunteering, one of the greatest joys for my heart is the volunteering I do at the
Smyth County Animal Shelter
taking pet portraits of all the animals who end up there, ones who are either lost or are looking for their new forever home. I make posters for each one and put them up on the shelter Facebook page that I co-admin with Officer Kristy Moore, a wonderful friend and animal control officer. She started the Facebook page not too long before I called out of the blue to volunteer my services. In the last 2 years we've helped hundreds of dogs and cats find new, loving forever homes, or be reunited with their families after getting lost. We started with just a few hundred followers, and one rescue helping us. We've grown to a whole network of wonderful rescues and volunteers who help us save lives everyday, and the shelter Facebook page is closing in on 3,000 followers! It's a legacy that has forever changed me.
Pixel
: And I love sharing the dogs and cats and happy endings on my page and here on the blog. Which, by the way, we need to do another 'happy endings celebration' post on the blog!
Pixel: Alright Mommy, I have one more question to ask, and this one I made up. What are 5 things people might not know about you?
Mommy: Hmmm, I think I can come up with a few things for this one.
1. I love snow and snowflakes. I love things with pretty snowflakes on them, and I even try to photograph snowflakes and snow crystals in winter when we get good snowfalls.
2. I love silly socks! I wear them under my work clothes and boots. Hello Kitty, unicorns, you name it, and I will wear it.
3. I worked in radio, TV, did night club deejay work and was a stage hand for concerts when I was a teen and into my early 20's. It was a great experience and I got to meet and work with some really fantastic artists.
4. I used to not like cats very much, but one day a very sweet cat changed my heart, and now I LOVE them!
5. I love box turtles and tortoises! Years ago I had a few and I loved their personalities. If I had a huge piece of land, I'd have a pet rescue sanctuary and turtles would have their own section to roam free in.
Pixel: Thank you Mommy for letting me interview you for this special "Meet the Blogger" blog hop!
Mommy: It was my pleasure Pixel. Thank you too! Now, let's go read about all the other bloggers.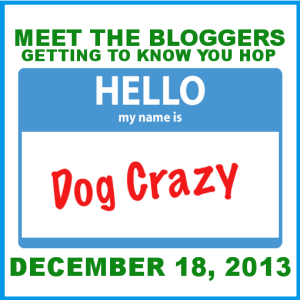 The links below are a doorway into many other fantastic pet bloggers that are wonderful and a real joy to read. I hope you enjoyed this special interview. Have fun getting to know about other pet bloggers.
Happy reading!