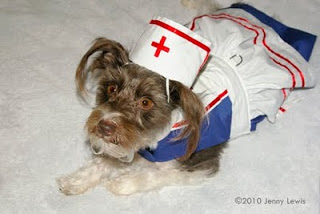 After another long hiatus from sharing my many tails of adventure, Pixel Blue Eyes, a.k.a. Pixel Mixel, is back! A lot has happened in my life in this year of 2010, but the last few months have taught me about what is most important.
Something you might not yet know about me, is that I am not only a trick dog, but I am also a NURSE. I am constantly attending to the needs of those around me, sensing when they might not be well, and administering my special blend of love and affection. But my nursing skills were SERIOUSLY put to the test recently.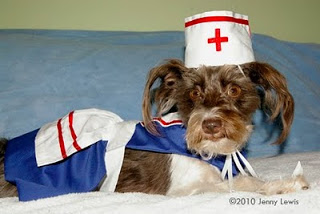 It started when my Mommy had major cervical spine surgery and had to be cared for and watched every single day for many weeks. I laid by her day and night, following her if she dared walk around the house, and I helped her eat her pureed mushy food (lovingly made by
her
Mommy!) until she could swallow better.
A few weeks after her surgery, my Mommy's Daddy had a heart attack, which was scary and horrible. He was in the hospital for days, but I was able to help the family through that as best I could. Then right after Daddy was safely home, my uncle Happydog, a dachshund with back issues, had a terrible episode with his back and had to be hospitalized too! My goodness, my nursing skills were really put to good use!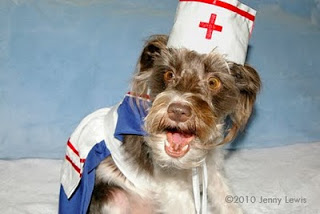 As they all recovered, I helped by entertaining them with my new tricks, bringing them balls and toys so we could play (er, I mean have therapy), checking their feet constantly (I am a foot expert and can check temp and pulse better that way), and being close by for naps and cuddle hugs at a moment's notice.
My whole family has been incredibly blessed though...God brought us through it all. We celebrated Thanksgiving with incredibly grateful hearts for the gift of one another and the love we share. Yes, caring for those you love can be one of the greatest joys ever! The love you give is one of the most important things you can do.