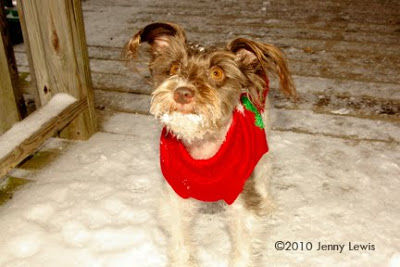 What an exciting time the last few weeks have been. Christmas is almost here and we have had snow for weeks! You would think that it has been winter for a month, instead of today being the first day of winter.
I love watching the snow fall, and I love Christmas time! My family always takes off a few days from work so we can be together.
My Auntie got me this bright red sweater,
promising I would love how soft it was. Mommy said how pretty I would look in it, so I thought it only fair to wear it and pretend like my super dog powers were NOT sapped out by the newest member of my kryptonite sweater collection.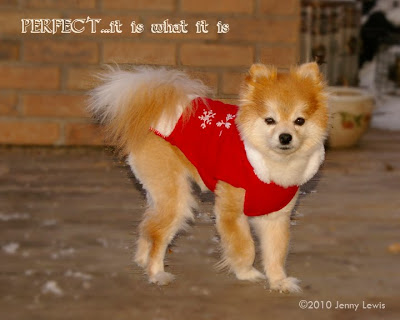 My cousin Peanut got a red sweater too, but she really likes them for some reason. She actually GAINS power when she gets to wear a sweater, she gets all excited and starts doing this really cool dance. I don't understand it, but as long as she is happy...
I also don't understand why she never seems to get snow on her face, like I always do. I think it is my feminine scruffles...I make it look good on a girl!
Well, I am sure Santa Paws has something wonderful in store for us on Christmas morning. We are both good girls...most of the time. And I do wear my sweaters like a good girl should...
In the meantime, I will just enjoy each day with my Mommy and family, hang out in my doggie bed bag (it is one of the neatest ways to snuggle!), try my best to hide from kryptonite sweaters, and wait for Santa Paws. Oh, and I will share some more snow 'tails of adventures' real soon too! We certainly are getting our winter wonderland share this year!
I hope you enjoy each day as it comes too!! Merry Christmas and Happy Holidays to you all.