click here
to read that hilarious account), but that was long gone now and I had made it through unscathed.
I lay super still, hoping to appear uninteresting and making myself become 'dead weight' so that maybe they'd leave me be. But no. Peanut was a victim too.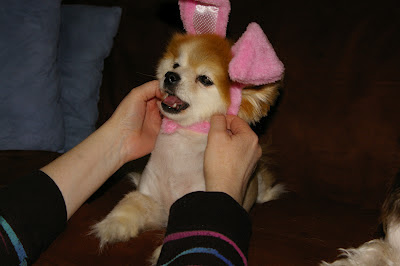 Peanut apparently thought she could talk our way out of this, and starting explaining to Auntie that she had already done this earlier in the weekend and that we should instead focus on our evening snack making. She also tried to tell them that I was completely exhausted from running outside during playtime and wrestling with the cats all day. I appreciated her efforts. It did not work...Flash, flash of the light.
Happy Mischief Monday friends!! I am part of the Mischief Monday blog hop. Please visit my friends blogs and see what kinds of mischief they have been up to this Easter weekend.
I hope you will visit and LIKE my Facebook page at
#/pixelblueeyes
.
I also have a new campaign to help educate and stop painful tail docking. I am a dog who knows personally what it's like to deal with the lifelong troubles it causes.
#/NoTailLeftBehind
. It would mean a lot! ((HUGS))