My friends, you all know how much I love doing my tricks right? You know how much I love sharing my 'tails of adventure' here on my blog, Facebook and on Twitter right? Well, I must share some very exciting things with you on my special "Who Let the Dogs Out" post that involves dog tricks, blogging and adventure!
Let me start out by introducing a really cool friend named Tillman. He has his own show on the Hallmark Channel called "Who Let the Dogs Out?" Tillman loves doing his tricks as much as I love doing mine. His talent is very unique...Tillman Skates! Yes, he is a fanatic about skateboarding. And boy does he have the moves too. No wonder he has his own show. One of the things I love most about his show is that Tillman highlights other talented dogs who can do all kinds of amazing tricks. (Maybe I should tell him about my "How Does a Car Go?" trick! (Oh, Tillman...do you know of another dog who can make her voice sound like a revving car engine?)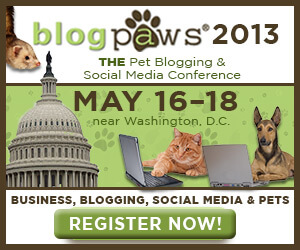 Well, Tillman was at BlogPaws 2012 last year. BlogPaws is a fantastic once a year event where pet bloggers and social media moguls like myself, come together from all over the country and beyond for a weekend seminar full of information, fun and opportunities to meet fellow bloggers and animal lovers face to face. Tillman aired a special two part series on his experiences at BlogPaws last year. One of my favorite parts was when they interviewed bloggers and their humans who attended the 2012 conference. I imagined myself there, getting to be in the middle of all that wonderful activity, meeting new people & pets, and learning lots of new things to make my venture grow!
Of course, Tillman gave demonstrations of his amazing abilities, and had some other special features. One of my favorite features was on the importance of dental health. I bet you didn't know that Mommy brushes my teeth regularly. That is why my teeth are so pearly white when I smile. And you know I LOVE to smile! We feel it is super important for a healthy dog life. Tillman loved BlogPaws so much that he's hosting a "Who Let the Dogs Out at BlogPaws" contest and is giving away a full 2013 BlogPaws Social Media and Pet Bloggers Conference Registration Pass PLUS a FREE Hotel Room at the Sheraton in Tyson's Corner VA. That is an amazing giveaway worth almost $600.
When we heard that they were giving away such a wonderful gift, well I was just beside myself, and could hardly think of anything else! Mommy and I have wanted to go to BlogPaws for a loooooonnnngggg time, and this year it is pretty close to home. If Mommy & I could go to the 2013 BlogPaws conference, I would love to learn about how to really market my blog and get my "Pixel Blue Eyes" brand out there. I can't stay under this blanket forever you know. I'd love to learn how to make an income with my online presence...how to turn it into a business, so that Mommy doesn't have to work so much. I always like learning from others. Mostly, I really want to meet fellow pet bloggers, social media pets and people in the business. I love making new friends and connections!
Wish me luck friends, and don't forget to look up Tillman's fun show "Who Let the Dogs Out" on the Hallmark channel. Maybe one day you will see ME on there...I do know several fun and unusual tricks, so one can always hope.
Check out some of the other pet bloggers in Tillman's blog hop or join in on the fun. To get full instructions on how to enter, go to Tillman's website and read his post on the
BlogPaws Contest
which ends tonight at midnight. Make sure to tell them that Pixel Blue Eyes and Tillman sent you!