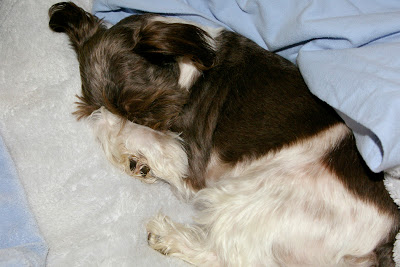 The end of last week was not one of my best times lately. I felt a bit under the weather Thursday all day, with my meals not agreeing with me. Mommy was concerned and made me rice for me to eat Friday because I got sick. Not my favorite, but I was agreeable.
I went to bed Wednesday night feeling even worse. I took the night off as Nurse Pixel and Mommy watched over me. Then I awoke in the middle of the night sick as a dog! We were up until after 3am with me helpless as a little puppy and in need of TLC, which Mommy is an expert at.
Needless to say, after a night like THAT, Mommy put the kibosh on me being allowed to eat ANYTHING on Friday. I woke up the next morning at my usual time, not thinking at all about what had occurred all night long. I ran into the kitchen for my morning breakfast. Low and behold, Mommy had placed a note in the little dog food box to ensure that I received no food from anyone. NO FOOD?? How long would that be...forever? Doesn't she know that a little dog's life revolves around mealtime?
I was still feeling bad, so I took Friday off too and just rested. My sister kitty, Snowflake, stepped in as surrogate nurse to watch over Mommy, who was watching over me because I was so ill. I am laying under that brown blanket in the background, resting and wondering if I'd ever see food again.
After a day of near starvation, allowed only chicken broth and the assurance that one day I'd get food again, I was allowed a diet of rice on Saturday. The meals started out super small. Being a nurse I technically knew it was to make sure I could keep it down, but as a dog, the meals seemed pretty paltry. But I got fed a little more often than normal, and I was feeling a lot better by Saturday afternoon, and had finally turned a corner. I felt much better by Saturday night.
Sunday, Mommy and I were so happy about me being well again, and after two days of paltry meals that consisted of rice and chicken broth, I was thrilled to finally get a real meal. I felt strong, was playful, and even wanted to practice my tricks with Mommy. So, we joyfully practiced one of our favorites of mine...Twirling! So, Sunday, we danced, grateful that this little girl got well and was healed!
Make sure that you dance and twirl and smile whenever you get the chance...
Click on the photo to see a bigger version of my twirling fun!
Don't forget to follow me on
Twitter
and
Facebook
. I can't wait to see you there.
I am part of the Mischief Monday blog hop. Check out some of my friends below to see what mischief they've been into!