My friends, you know that I am a natural kind of dog that tries to stay as healthy as I can. Mommy and I both believe things should be simple, pure and as natural as can be. I've shared many an adventure where I've explored the great outdoor woods, celebrated the joys of little things, and shared wonderful food that Mommy has made for me that was all natural. I also believe that a healthy life is about balance. I love to play & exercise, but I get plenty of rest to balance that out. I love to learn new commands and tricks, but Mommy always makes sure that I only have fun with it. And, of course, I love to eat good food and treats that are a wonderful balance of nutrition. That is how I stay in top Pixel shape.
Well, imagine my joy when I was asked to try a new and all natural grain free dog food by Hill's called Ideal Balance. This dog food is unlike most other dog foods, in that Hill's really does believe in a perfect balance of nutrition and safe, natural ingredients. Hill's Ideal Balance has no corn, wheat (which I especially like since I'm a wheat free dog), soy, artificial colors, flavors or preservatives. In fact, their healthy, all natural ingredients, such as real chicken meat, potatoes, peas, carrots, apples, cranberries, and flax seed, are guaranteed, or your money back.
I was very excited to try it out, so we had some sent to us. It seemed like forever before it finally arrived, but it was well worth the wait! When Mommy opened that box and I saw those wonderful bags of new, all natural dog food to try, I couldn't help but give Mommy the biggest smile I could muster!
Oh, the excitement of getting a new yummy food that is safe to eat is always a highlight to me and my sisters. Peanut (the Pomeranian) and Dixie Mae (the Dachshund) were both excited about this new food too. Mommy said that only the very best ingredients go into the making of Ideal Balance. In fact, I remember getting to meet Dr. Kathy Gross at the BlogPaws conference back in May. Dr. Gross is a nutritionist at Hill's who was instrumental in the development of Hill's Ideal Balance pet food. She said that dog health, and of course cat health, is very important to everyone at Hill's.
When Mommy researched about Ideal Balance, she felt good knowing that Hill's sought significant consumer input on its pet food to better understand what pet parents wanted in a natural pet food.
The new, breakthrough packaging reflects the quality expected from Hill's, showcasing the balanced ingredients inside. It outperformed other natural brands in "standing out on the shelf", looking unique and being viewed as a high quality product. ...at least that is what Mommy said. I said it looks yummylicious and it made me want to jump inside the bag right away and do my own taste test.
When Mommy was doing research about the food, she got to see the making of Hill's Ideal Balance pet food commercial, where they really highlight the idea of balanced nutrition for pets. Mommy pulled out her portable tablet and showed me, Dixie Mae and Peanut the making of the video too. We were very interested in how they used the latest technology to make the commercial. Mommy said we looked pretty enthralled as you can see from this photo.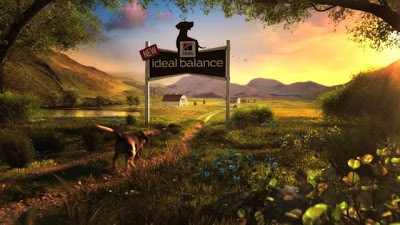 Hill's created commercials set in a hyper-realistic world of balanced nutrition for dogs and cats. In separate commercials, they follow a dog and a cat as they discover the world of Ideal Balance. Along the way, the pets journey through the balanced elements that make up Ideal Balance: Perfect proportions of what pets need to be healthy – not too much, not too little.
After we learned all that in the "making of the video", we got to see the actual commercial with all the super cool special effects that made the dog look so beautiful, healthy and like he was walking in an amazing looking world of perfect balance....we REALLY got excited! We were barking and telling Mommy we couldn't wait to try it ourselves. Talk about getting the consumer interested in the product...we LOVED watching how they made it and then watching the actual commercials. As a matter of fact, I think they should do even MORE commercials, and that maybe they would to use ME in their next Ideal Balance commercial. I mean, I have mastered perfect "balance" while doing my twirls and can do all kinds of commands and tricks on cue.
Here is the "Behind the Scenes" video showing the making of Hill's Ideal Balance pet food commercials.
And here is the amazing commercial they made for the dog food...it is such a beautiful thing!
Finally, Mommy let me taste this great new food for myself. We read that Hill's has received excellent reviews from pet parents who stated that their pets "love the taste" (even picky eaters), plus their pet's coat became shinier. The new Ideal Balance pet food has been very well received by both cat and dog parents alike. You can read some of the reviews from happy consumers on their
Hill's Pet Food Facebook page
. In spite of all these great reviews, I told Mommy that I would be happy to give my own review. I am after all, a big authority on great tasting kibble. Now, the first thing I had to do was choose which bag to open first. The one on my left looked a little closer...
Mommy cut open the top and saw that the packaging is high quality with a really neat resealable zipper type seal. I, on the other hand, was so excited I stuck my head in before she could say a word! Don't worry, she was able to stop me before I downed a huge mouth full....unfortunately!
"Wait Pixel," Mommy said. "Remember...this food, and our eating habits, are all about balance. Not too much, not too little."
She measured out the perfect amount for me, based on my weight (12 lbs) and how many times a day I eat. I get 3 square meals a day, plus occasional snacks, so this equates one of my meals. Look at how nice and well formed those kibbles are. It smells real good too!
She set it down for me and I scarfed it up so quickly, she almost didn't get a photo, BOL!! I told her it was delicious!!! I give it two paws up in taste, texture and crunch! So Mommy, when is my next meal time again?
Well, now that you know a little more about what went in to making this amazing new, natural pet food – go out and get some for your own family, and see the difference perfectly balanced natural ingredients can make. Take it from me, Pixel Blue Eyes, I promise you'll be glad you did!
Hill's website offers all sorts of information on the products, including where you can purchase them, online or in your neighborhood – and you can even try it free with the rebate offer!
Disclaimer: Author has been compensated for completion of this article. Hill's Pet Nutrition, Inc. is not responsible for the content of this article.