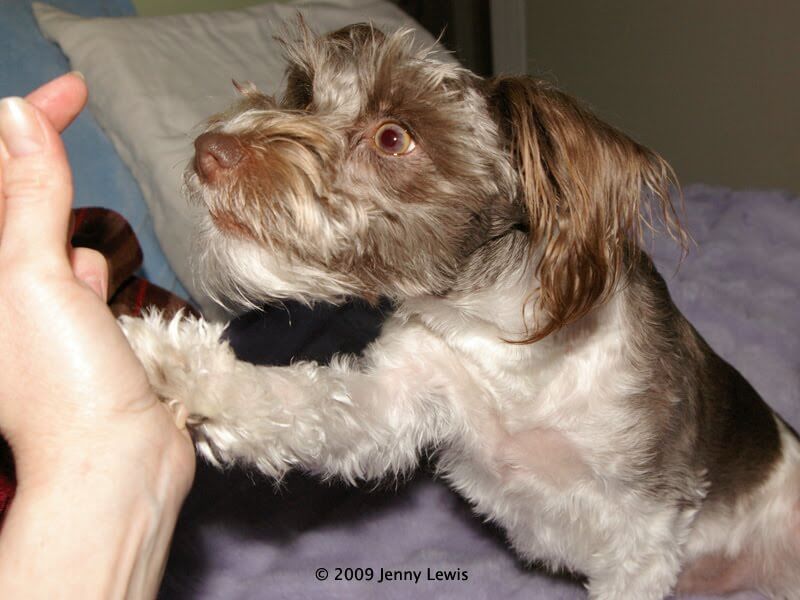 I love doing all my tricks with Mommy. She's my one and only trainer, and has been all my life. Mommy has always been so positive, encouraging and fun to work with that I love to make her smile, laugh and be happy with all the interesting tricks I can do. I look at my training as a team effort, because I am after all half of the team. But how did my trick learning all start? And what is Mommy's technique?
1. She trained OUT of me the bad behavior with positive reinforcement.
2. She trained into me my very first command or trick word.
Here's some quick "Positive Pet Training" tips from Mommy Jenny
to make it fun, successful and easy:
1. Choose one word or phrase for each trick/command and do not deviate from it. Always use the same word/phrase.
2. Keep sessions of learning short and fun. No more than about 5-10 minutes, though you can do it several times a day if you wish.
3. When first starting a new command, be patient when they don't get it. And if they even a little bit start to do it when you say the word, immediately give the treat and the good dog praise. You can fine tune the correction and finer details of it later, but they need to know they are succeeding early on so they keep trying.
4. Use tiny little bitty treats, so your dog does not get chunky from learning. Mommy has used gluten free rice cakes that can be broken up into very little pieces, or Rice Chex. You can also use one or two dog bones smashed up into tiny pieces (a ziploc bag and a mallot works wonders). The crunch is great for us pups, no matter how small the piece is, and there's hardly any calories.
5. If frustration creeps in during training from either you or your dog, stop and do something else. Play a game of pull toy or run around the yard. Always keep it fun with no stress. If the dog thinks they are "in trouble" they can get frustrated and either lose interest or become insecure.
Some tricks take longer to learn than others. It depends on the dog, it depends on the trick, and it depends on the consistency of the training. Mommy believes it also can depend on the history of the dog. It took me over two years to learn the safety word "WAIT" with Mommy. Wait" means "stop doing whatever you are doing and freeze so Mommy can pick you up". It can save a dog in many instances, including stopping them from eating something bad for them, making them stop in their tracks as they are running towards the street, or perhaps prevent them from stepping into a freshly broken glass of milk that fell to the floor.
For some reason, I thought I was going to get punished with that word and what it meant, so I would run away from her every single time. I would even cower when I finally DID stop running away, etc. Mommy always made sure that once I stopped and/or let her pick me up, it was always such a positive response from her. She'd never punish me for not listening, or not "waiting". She just ensured that when I finally waited, I was praised, reassured and loved on. She just kept working with me on it until I truly mastered it. She never gave up, never got mad at me, but was firm in her "WAIT" voice. Now I do it right away, and I still get all the praise and loving hugs in the world after I do it.
Now, go have some fun with your dog. Learn together, laugh together and remember, always keep it positive!
Here is one of many videos that Mommy and I have made of me doing my tricks with her. You can tell we both have such fun! Go to
my YouTube channel
to see more amazing Pixel pet trick videos. And don't miss my "
How does a car go?" trick
video either! You'll be laughing so hard just like Mommy is in the video.
Cascadian Nomads
,
Dachshund Nola
and
Tenacious Little Terrier
. Visit some of the participants below to see how they train their pets in a positive, fun way.