Mommy told me about this song she used to love back in the 80's when she was a teenager and I really liked it too, so I thought I'd dress the part and sing it to you. Here goes....
"It's just another Monarch Monday, Oh-woe.
I wish it were Sunday, Oh-woe.
Cuz' that's my fun day!
My 'get to run around' day, Ohhh....
It's just another Monarch Monday!"
Since it's from a group called the Bangles, that must be sort of like "bling", so wearing my Princess Pixel outfit seemed fitting. Since we're talking princesses and monarchy, I wanted to introduce a couple of other princesses I know. They are very sweet and nice and are humble in their Princess-iness.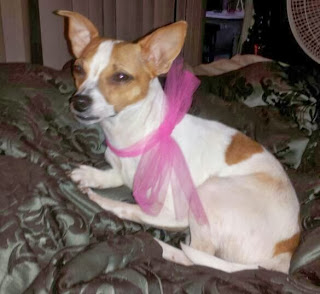 Photo used with permission by Sharon Elliott
This is Precious Princess Hope. She is a very special girl who lives in Florida. She was born with some front paw limitations, but that doesn't slow her down from being the sweetest, prettiest Florida princess I know! Her Mom Sharon is super cool too, and even made me a beautiful purple animal print dress that is so pretty. They love each other so much! I know Hope would love to make some more friends on her
"Precious Princess Hope of Northford" Facebook page
. Go visit her sometime, like her page and get to know her.
Photo used with permission
by Amy Martis
My friend Princess Ellouise is loads of fun too! She's a beautiful pit bull Princess who is a great ambassador for the loving and noble breed. She is also silly and loves her Mommy Amy so much. They take great care of each other! Princess Ellouise's Mom made me two lovely tutus and sent them with the tiara and feather boa I am wearing for "Monarch Monday" today. But don't let the tiara fool you, Ellouise is just as laid back as they come, just like me and Hope. I bet she'd love to make some new friends too. Visit her
Princess Ellouise Facebook page
and say hi!
So, now that we've really celebrated Monarch Monday with style, let's get back to that song...
"It's just another Monarch Monday, Oh-woe!
I wish it were Sunday....cuz that's my fun day....."
This Blog Hop is brought to you by
Alfie's Blog
,
Snoopy's Dog Blog
, and
My Brown Newfies
.