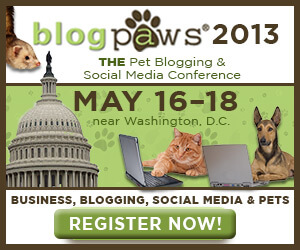 I can't believe that in just two short weeks from today, Mommy & I will be at the BlogPaws 2013 Convention & Social Media Conference in DC. We are SO excited!!!!! There is going to be a lot of different people from the pet industry, so many of my fellow pet blogging friends, special meet & greets, wonderful rescue groups, amazing presentations, awards, and tons of networking opportunities. I have not told Mommy this yet, but I've been thinking a lot about the networking part of it. Every dog has a dream of making it big in one way or another. I have a little dream too, actually, one of many dreams, but for now, I will focus on this little doggie prayer.
Dear God, please let representatives from the Kong Wubba toy company be there, and let them be looking for a little dog like me that loves their toys more than treats, and let them ask me to be their official spokesdog forever, and let them have many Kong Wubbas that they need me to do product reviews for. Please let Kong toy company see that they cannot bear to live without me being their doggie representative and that I MUST go on tours of all the King Wubba sites that make the Kong Wubba. Finally, please let them name a really cool baby blue colored Kong Wubba the "Official Kong Wubba - Pixel Edition".
Remember, if you are going to dream...dream BIG!!