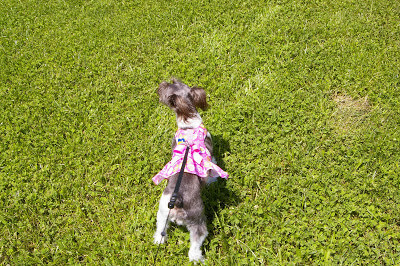 When we first arrived on the scene, I of course had to scout things out first. I might not be in charge of the show, but I like being part of the security team...pink dress or not! No one would ever guess a little dog in a pink dress could be law enforcement, but by golly I am. I am always happy to protect and serve while still remaining stylish & cute!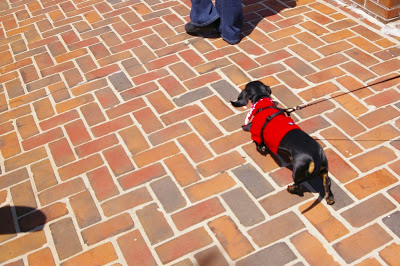 After I felt it was safe, I let Dixie take charge of navigation. She's been getting much more brave and confident over the last month or so, and I am so happy that she is feeling that good about things! o, Dixie Mae Doxie led the way through the crowds as we headed to the food & the music. She was fearless! Look at her pretty ears swishing while she walks with style.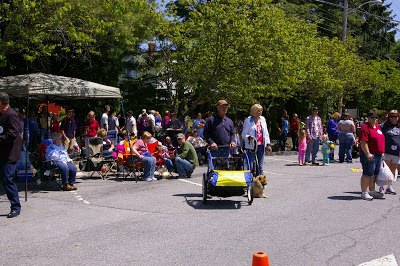 The first thing we saw was a huge crowd of people and pets, and some great dancing being done by the
Crooked Road Cloggers
. These girls were fantastic and had a fun time dancing to all kinds of music! Their sparkly sequin shoes looked so pretty in the sun. Now that is a creative 'tap shoe'.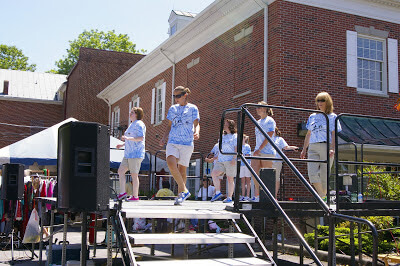 They just started a new Facebook page, so if you like dancing and want to support a local small town group, please go visit their page. They were so kind to us pups too! We talked to them after they were done and each one of them were very nice. In case you didn't know, the "
Crooked Road
" is a 300 mile long Virginia Musical Heritage road, with many wonderful stops that share the rich history of country and bluegrass music along the Appalachian mountain chain.
We met lots of doggies while walking along the "Plumb Alley"...we found out that it is indeed an actual alley. It's a long narrow road behind Main Street in downtown Abingdon Virginia. Vendors, non profit groups, and businesses of all kinds come and sell new and used wares, food, snacks, and everything in between.
This is Morgan (amber colored dog) and her brother Sledge (cream colored Brindle) who are both English Mastiffs. They were SO nice and gentle to everyone. The little kids were so gentle with them too, it was great to watch. I even sniffed noses with Morgan from my carrier. She was very nice and had a great smile.
Even though I was in my carrier, that didn't mean I was off duty. I met a lot of nice people who were very sweet, but I also kept my watchful Pixel eyes sharp for any signs of trouble. In this day and age, you can never be too careful. Part of my years of training includes the fact that I can turn my head around really far while in that carrier, with a 270 degree area of vision. Just don't make me sit facing out...I feel like I'm floating but not in a good way. So I always sit facing Mommy so I can give her surprise kisses when she least expects it.
Dixie wanted to sniff every single thing that was not (or even was) nailed down. She was just amazing to watch. "Hey Mommy, I'm pretty sure they're cooking fresh dog bones down this part of the alley."
She looked so pretty in her bright red & white polka dot dress. She makes such a beautiful puppy mill survivor advocate doesn't she? No wonder everyone wanted to pet her.
Grammy and Dixie have such a great bond that they both share too. It is beautiful to see her feel so safe and loved in Grammy's arms. They are crazy about each other!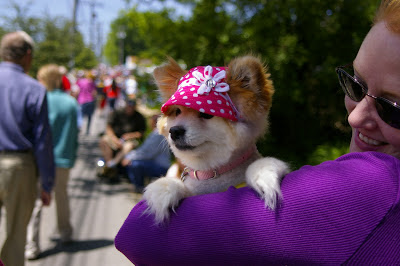 Everyone really loved that all three of us girls were 'dressed for the occasion'. Peanut was quite a people watcher. She's been sick for a long time, so it was great to be able to bring her out to have some fun. Her hat was just too adorable for words, but it also served to protect her delicate eyes from the sun. She has eye issues, so her Mommy takes extra precautions.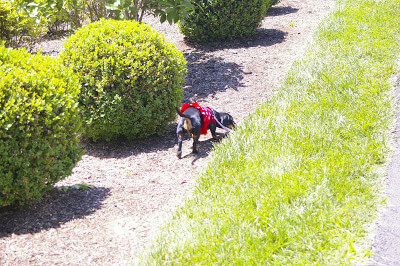 Several times throughout the Dixie Mae Doxie went off to seek adventure on her own, not realizing that she was always tethered to a lead. She sniffed everything and anything. Dixie didn't meet a single blade of grass that she didn't know.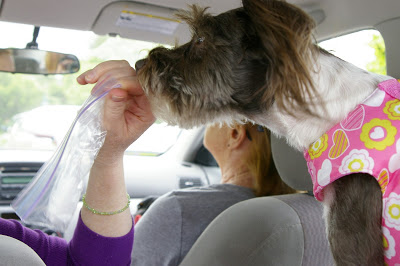 We brought our own food, so we had a small picnic in the car after we had sufficiently tired ourselves out. It was too hot to eat outside, so the air conditioned car made a perfect spot to eat. Everyone was passing bags of food to and fro, so anything that passed my way to Mommy was inspected for safety by yours truly. I am becoming a wheat/gluten sniffing dog for Mommy...at least in my mind I am!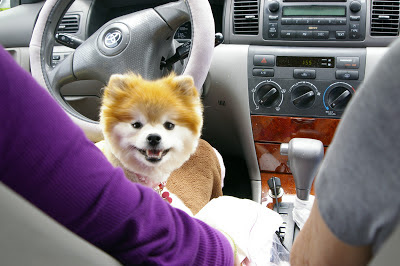 Peanut was very interested in what Mommy was eating in the back seat with me, even though her own Mommy was eating the very same thing, BOL. She looks awfully adorable with her sweet smiling face! Our picnic included homemade gluten free banana nut muffins, hard boiled eggs, cheese, some other nums I can't remember, drinks, and one special treat we bought while at the festival...fresh, made in front of you cinnamon-sugar coated pecans, guaranteed gluten free. Us pups can't eat nuts, but we did get to have tiny bits of the banana muffin without the nuts. It was a great picnic!!
Finally, after getting fully exhausted from the festivities, and then getting a nice full belly, we started our drive back home. Peanut and Dixie Mae were completely worn out and slept most of the way home.
This is a recap of my adventure for the "Monday Mischief" blog hop hosted by
Alfie
,
My Brown Newfies
and
Snoopy's Dog Blog
. Go by and visit their blogs, and click on some of the links below to see what other mischief occurred with my fellow pet bloggers this weekend.