Dog weight loss can be a difficult goal to achieve. You've seen me blog about it before, sharing my own past experience with extra weight, and the challenges that come with trying to help your pet lose weight. Many pet owners love giving extra food and treats to their beloved pets to show how much they love them. But when the pet gains extra pounds, it can put a real stress on their bodies, and make it hard for them to live an active, healthy life. So trying to force the weight loss by withholding food and treats, and trying to increase exercise is not always ideal. Today I want to share with you a real life doggie weight loss success story, all thanks to my friends at #HillsPet!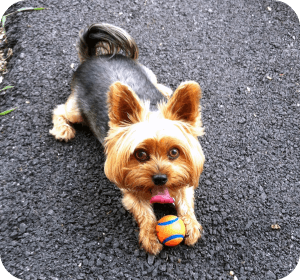 Dash, an adorable 9 year old male Yorkshire Terrier from "
The Philly Dog Blog
", and his Mom took part in the #Hill's® Prescription Diet® Metabolic Advanced Weight Solution weight loss trial. Dash was a husky 12 pounds at one time in his life. Now, while that sounds pretty small, when compared to what his ideal weight (8 lbs) should be for his size, Dash was extremely an overweight dog with his little body under great stress from it. His Mom Rebecca began noticing he was overweight about 3 years ago, and said that at times during his heaviest, he actually waddled when he walked. Dash definitely needed some help to get more 'dash' in his step.
But before we talk about his successful weight loss with #
Hills Metabolic Advanced Weight Solution
pet food, let's learn a bit more about Dash. I want to share what his Mom says about how they met:
"
I got Dash from a breeder. When I arrived, Dash came running up to me. When I picked him up he literally wrapped his paws around my neck. Sold! He was 2 years old at the time and she had been
showing him (I think she stopped because he wasn't winning). But he was a total winner in my eyes!
"
Dash's name fits him well, for he loves to play fetch with his orange ball (and
only
his orange ball), play tug of war and chase squirrels. His mom loves playing fetch with him as well. She cherishes their walks together, and cuddle time is always a favorite for them. Of course, it's a favorite for me and my Mommy too!
When asked about Dash's quality of life with the extra weight he carried about, Rebecca said that Dash's collapsing trachea had gotten a lot worse and his luxating patellas (knee joints) popped out a lot more often, which can be painful. The excess weight had an effect on activity as well. He couldn't play fetch for as long as he used to, he didn't want to go for walks, and he slept more.
In the past, Rebecca would just try withholding treats and food to try to shed the pounds off Dash. As you can see in this video, Dash didn't want to dash much at all. He'd just meander through the yard instead.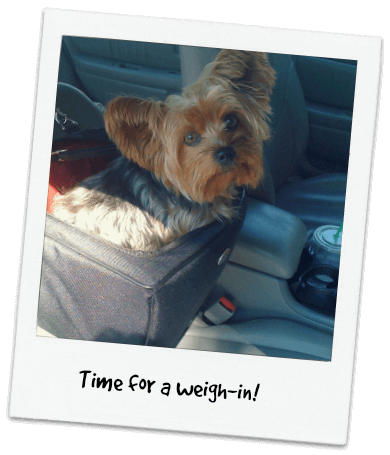 Mom Rebecca said that this is her first time using a diet product for her boy. What makes Hill's® Prescription Diet® Metabolic Advanced Weight Solution so special is that it activates your pet's metabolism to regulate appetite and burn fat. It wasn't long before things started changing once Dash was on the Hill's Metabolic Weight Solution formula.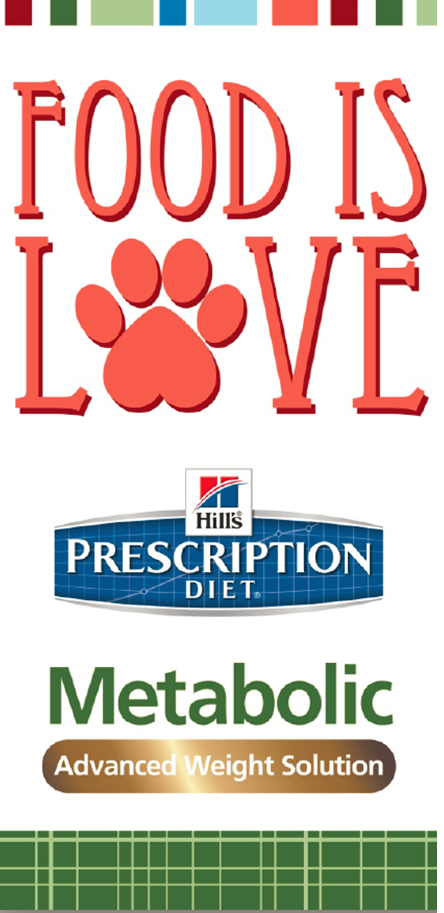 Dash had been used to a raw food diet, so initially he had a tough time switching to a dry kibble and treats style of food. He eats the food, but does so reluctantly and the treats take some extra cajoling for him to eat them. However his Mom still has piece of mind knowing she doesn't have to worry so much about what exactly he can and cannot eat.
The weight started slowly coming off.
At last weigh in, he only had one more pound to lose before reaching his ideal weight of 8 pounds. Isn't that fantastic?
While eating Metabolic Advanced Weight Solution, an obese pet's metabolism changes to act more like that of a lean pet.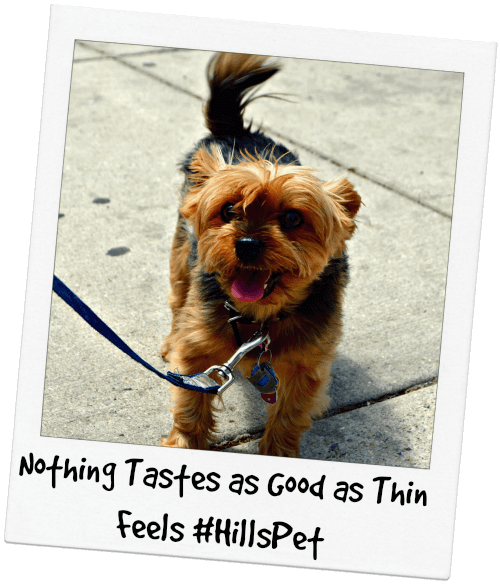 Rebecca says she's extremely pleased with the success of the Hill's Metabolic Advanced Weight Solution pet food. Obviously Dash is enjoying having more pep in his step too! His Mom says he is acting more like a puppy again and has much more stamina. She is so happy that Dash is playing fetch again and that he enjoys walks much more.
Let's watch this video of Dash as he 'dashes' to get his favorite orange ball.
Want to learn more about Dash's successful weight loss journey with
Hill's Metabolic Advanced Weight Solution dog food
? Visit "The Philly Dog" blog to read about how
Dash was able to quit the overweight dog's club
and read more about
Dash's before and after results
. Make sure to leave him a congratulatory message.
To hear more first hand testimonials about Hill's Metabolic Advanced Weight Solution pet food, visit their
Facebook page
and enter the name of the food in their special search engine.
This post is sponsored by Hill's. I am being compensated for helping spread the word about Hill's Prescription Diet Metabolic Food, but Pixel Blue Eyes only shares information we feel is relevant to our readers.
Hill's Pet Nutrition, Inc. is not responsible for the content of this article.