There is nothing quite like a good story about a true hero overcoming adversity through the power of love, friendship and determination. If that story has a dog as the main character? Well, I'm hooked! Max the Movie is a very special movie coming out on June 26th that tells a story quite unlike any other dog story you've seen. It's incredibly moving, adventurous and gripping, and beautifully portrayed. Let me tell you more about it...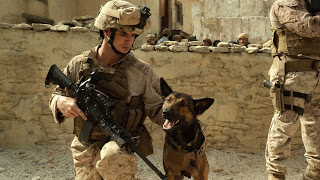 Max the Movie follows the journey of Max, a precision-trained military working dog (MWD), who serves on the frontlines in Afghanistan alongside his handler, U.S. Marine Kyle Wincott. They have a very special bond. But when things go terribly wrong on maneuvers, Kyle is mortally wounded and Max, traumatized by the loss of his best friend, is unable to remain in service.
Over 3,000 Dogs have served in Iraq and Afghanistan.
Max was so bonded to Kyle, that he won't work with anyone else. Traumatized by the loss of his best friend and suffering from PTSD, Max is unable to remain in service.
I can only imagine how horrible it must have been for Max to suddenly be alone without his beloved human by his side anymore. Military working dogs and their handlers literally spend every waking and sleeping moment together in Afghanistan.
Shipped stateside, the only human he seems willing to connect with is Kyle's teenage brother, Justin, so Max is adopted by Kyle's family, essentially saving his life. But Justin has issues of his own, such as living up to his father's expectations for him; he isn't interested in taking responsibility for his brother's troubled dog. However, Max may be Justin's only chance to discover what really happened to his brother that day on the front, and with the help of a tough-talking young teen named Carmen, who has a special way with dogs, Justin begins to appreciate his canine companion. There are so many incredible scenes in this movie that will make you smile, make you cry and warm your heart like nothing else. This is a chance to really understand what it's like for our brave military working dogs, their brave military soldier handlers and their families.
Watch the official movie preview for Max the Movie to see the exciting adventure that awaits you...
26 Dogs and 25 Handlers have given their lives
in service to our country since 2003.
Justin's growing trust in Max helps the four-legged veteran revert back to his heroic self, and as the pair race against time to unravel the mystery, they find more excitement—and danger—than they bargained for. But they each might also find an unlikely new best friend…in each other. "Max" stars Josh Wiggins ("Hellion") as Justin Wincott, Lauren Graham ("Cloudy with a Chance of Meatballs," TV's "Parenthood") as his mom, Pamela, and Oscar nominee Thomas Haden Church ("Sideways") as his dad, Ray.
Yakin directed the film from a screenplay he wrote with Sheldon Lettich ("Legionnaire"). Karen Rosenfelt ("Marley & Me," the "Twilight" series) and Ken Blancato ("The Book Thief") served as producers, with Ben Ormand and Yakin executive producing.
Yakin's behind-the-scenes creative team included director of photography Stefan Czapsky ("Safe"), production designer Kalina Ivanov ("The Vow," "Little Miss Sunshine"), editor Bill Pankow ("The Untouchables," "Let's Be Cops") and costume designer Ellen Lutter ("Grown Ups," "50 First Dates). The music is by Trevor Rabin ("Grudge Match," "Remember the Titans").
This is a wonderful featurette about the movie and how they made it, and how important the soldier dogs are in the military. Dogs just like Max are heroes and they do heroic things for our military every day! You've got to see this!
Warner Bros. Pictures and Metro-Goldwyn-Mayer Pictures present, a Sunswept Entertainment production, a Boaz Yakin movie, "Max." The film opens nationwide on June 26, 2015, and will be distributed by Warner Bros. Pictures, a Warner Bros. Entertainment Company.
PARENTS: "Max" has been RATED PG by the MPAA for action violence, peril, brief language and some thematic elements.
I can't wait to see this movie friends. It has special significance to me because my doggie sister Dixie Mae is a PTSD service dog to my Grammy who is a veteran. My Grampy is a retired veteran too, so we are very proud of our military, and understand the effects that PTSD can have on people and animals. Dixie Mae also suffers from PTSD of her own from being shot and abused as a mill dog, so we help her through those difficult times as well. That's what you do for family, just like in this movie.
Here is the official music video of the movie's song "Forever Young" by Blake Shelton. It is SO beautiful and will definitely make you cry. So grab some tissues, hug your dog and watch this moving #MaxtheMovie video: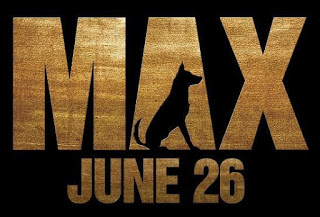 Is your pet your hero?
Share your photos and stories using the hashtags
#HeroPet
and
#MaxMovie
on social for a chance to be featured on the official MAX pages!
Follow MAX on Facebook at #/MaxMovie and on Instagram @MaxMovie. #MaxMovie
http://max-themovie.com
#/MaxMovie
https://www.instagram.com/MaxMovie
Don't miss an opportunity to see this amazing movie friends!
It will warm your heart and be a joy for the entire family.